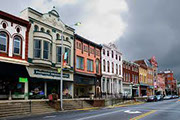 Winchester, Ky 2015 - current
Melissa and I sold the home in South Carolina and moved to Winchester, Ky in December of 2015. We are now closer to our 3 grandchildren and many of Melissa's family. The house is nice and spacious, built in 1938 everything but the kitchen and my office has been updated. It is located in an older part of town which is considered the Historical District.
Reworking Websites -
In April 2017 I switched my webhosting over to eHosts, so I figured besides saving money I should start to rework all my web material. Currently I am modifying the Wag Gaming Site, and the Baseball site is an ongoing league so it changes 3 or 4 times a week. So this has been keeping me busy and out of trouble.

Amendment II
A well regulated Militia, being necessary to the security of a free State, the right of the people to keep and bear Arms, shall not be infringed.
Amendment IV
The right of the people to be secure in their persons, houses, papers, and effects, against unreasonable searches and seizures, shall not be violated, and no Warrants shall issue, but upon probable cause, supported by Oath or affirmation, and particularly describing the place to be searched, and the persons or things to be seized.